There is something very charming about a clapper bridge. At its simplest, a large stone propped across a stream from bank to bank. They are somewhat rough and ready, but eminently practical. A larger watercourse may necessitate a little more engineering in the form of several stone slabs joined together, supported on stone piers. It has been suggested the word 'clapper' derives from the Anglo Saxon cleaca, meaning 'bridging the stepping stones'. Dartmoor and Exmoor are well known for their clapper bridges, but they are also found in other parts of Britain.
I was aware that a clapper bridge was to be found somewhere in Cragg Vale. Having a free day and a need for a good adventure, I set out to find it. Guiding me was the excellent Pennine Horizons e-trail app. This is available to download free on Apple and Android. This was my first time using the app and I found it quite impressive. While I didn't do the whole trail, it helped me get my bearings and find both the clapper bridge and a ruined paper mill further downstream.
The app includes detailed instructions on where to start and very clear walking directions. It also gives an idea of the terrain and likely time required to complete the walk, along with suggestions of where to stop for refreshments. Best of all, each stage of the walk is accompanied by an audio file with snippets of history and things to look out for. I downloaded the Cragg Vale trail before leaving home and referred to it frequently while out walking.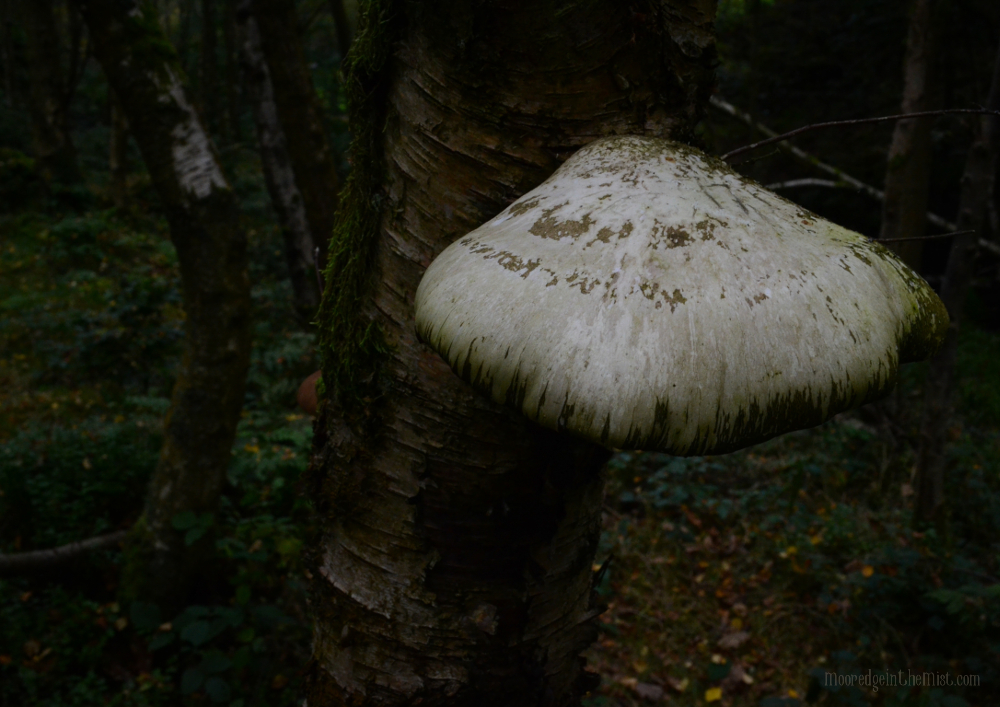 My walk began from the Hinchliffe Arms pub. The path more or less follows the course of Turvin Clough. This fast-flowing stream powered the mills that once dominated the valley. Today, there is little evidence of this industry bar the odd weir and some ruinous walls. The route is wooded, largely with elegant silver birch. The path littered with yellow and brown leaves, while giant polypores sprouted from trunks and stumps along the way. When the sun broke through the clouds it turned the whole scene golden, giving a glimpse of an almost fairytale world.
It did not take long to reach the clapper bridge. Also known as Dog Bridge, it is a sturdy structure of slabs and piers. I have been unable to find a definitive date for the bridge. However, I would have thought it was at least a couple of centuries old. You can well imagine the clump of clogs as scores of workers crossed on their way to work in the valley's mills every day.
Retracing my steps I turned back and followed Turvin Clough back past the pub and beyond to find the paper mill. Turvin Clough joins with Withens Clough at a particularly lovely spot by the church (the evocatively named St John's in the Wilderness). Continuing as Cragg Brook, the stream becomes faster and wider as you go down the valley, and the banks steeper. The ruins of the paper mill straddle the water and date back to the 18th century. There is a waterwheel in situ, although this is not the original wheel. It is still rather picturesque nonetheless.
Walking through this idyllic valley today, it is hard to imagine how different it must have been just a century ago. At its peak, there were 11 mills operating in Cragg Vale. The local mill owners were notorious for their abuse of workers rights, resulting in a campaign to improve conditions led by a local clergyman.
Having the audio files to accompany the walk gives an added dimension which deepens the experience. It provides a link to the heritage which is not always immediately visible. I'm very much looking forward to exploring more of the trails and learning more about these valleys I call home.