High above the town of Todmorden a surprisingly large cemetery sprawls across a windswept hillside. While most of the inhabitants of Cross Stone Cemetery are unable to appreciate the view, there is much to offer the curious visitor.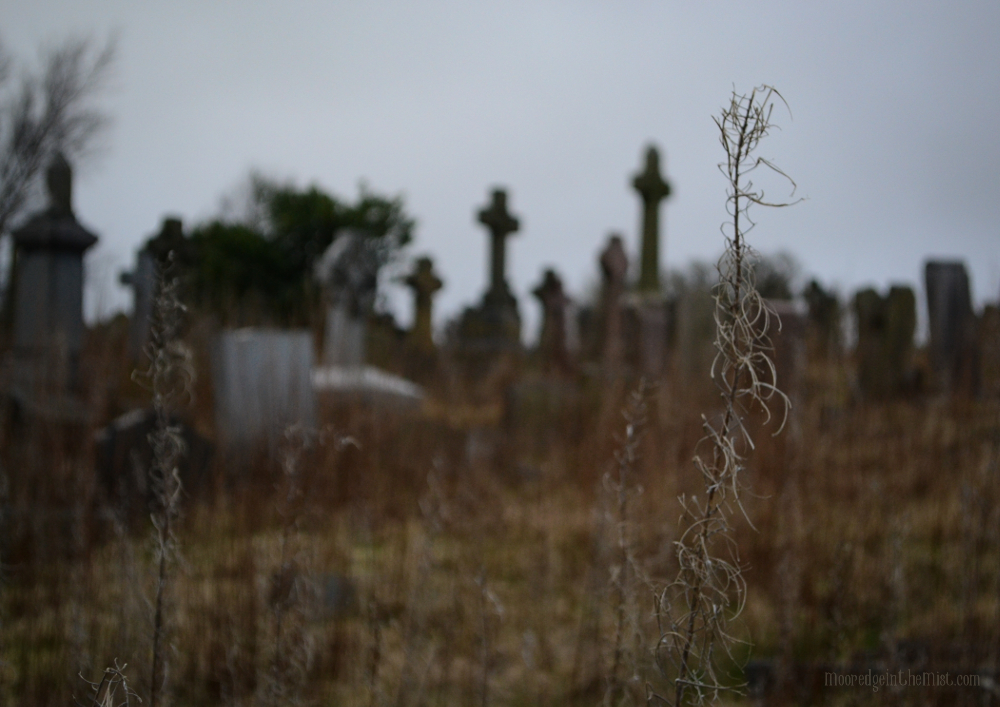 The cemetery served as an extension of the churchyard of St Paul's, which stands nearby. The present church was built in the 1830's but was closed in 1978 due to structural problems. It is now a private house with no public access. The settlement of Cross Stone gained its name from a fragment of 11th-century stone cross found in the wall of a barn. Originally the area was part of the parish of Heptonstall, some miles away. Mourners would have faced a long, hard walk over the hill to bury their loved ones. The first chapel of ease was built at Cross Stone around 1450. A larger church followed in the 16th century, which was then replaced in 1717. The building of the churches must have been extremely welcome to local parishioners.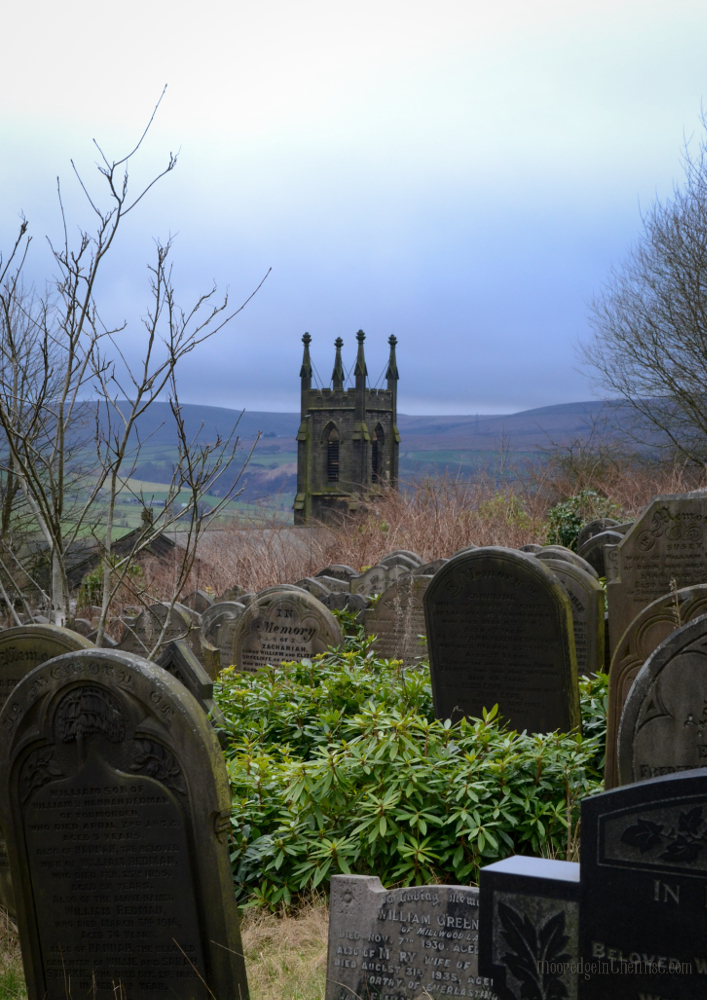 I am uncertain exactly when the new cemetery came into use at Cross Stone. It was presumably opened due to the smaller churchyard around St Paul's church becoming overcrowded. Most of the graves date to the Victorian and early 20th-century era. However, the cemetery is still in use and burials continue to this day. Cross Stone cemetery's considerable charm lies not in the famous personages buried there, or the quality of the tombs. It is very much a local parish cemetery filled with memories of ordinary local folk. And while there are some pleasantly sculpted monuments, its real charm is in the location.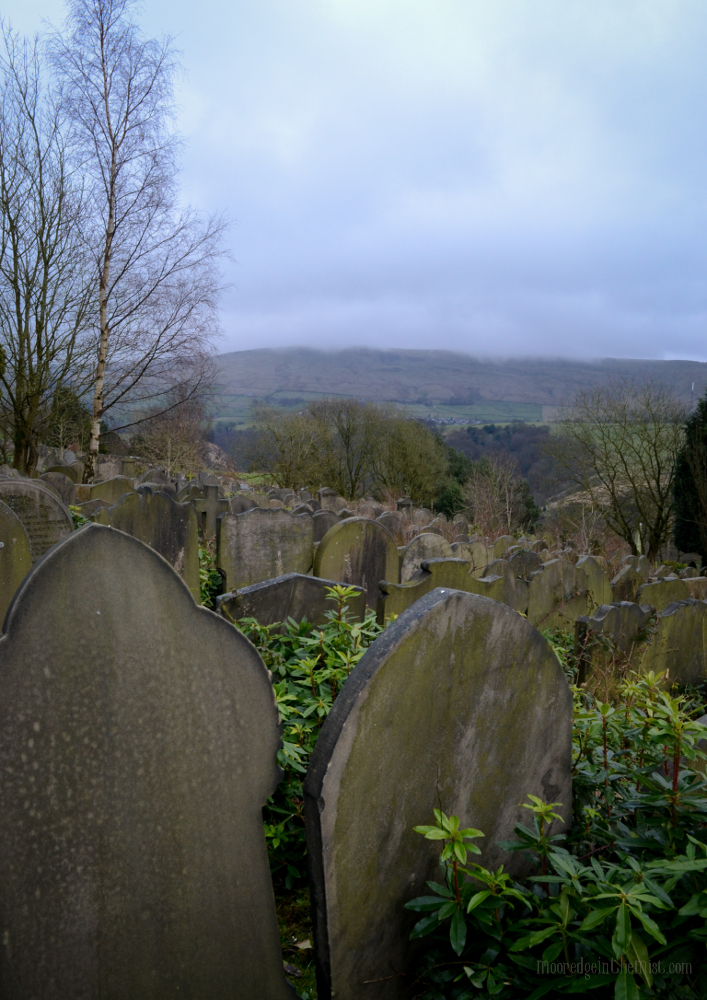 The view across the valley is rather wonderful.
Stoodley Pike dominates the skyline on the opposite hill. On the day I visited the monument was shrouded in mist, looking very atmospheric. The vegetation had faded to gorgeous rusty oranges and browns which set off the green-grey lichened stones. The soft pinky browns of withered blackberry vines that trailed over the headstones were particularly lovely. Some graves had completely disappeared under exuberant rhododendrons. When these are in flower it must be quite spectacular. While Cross Stone cemetery is pretty well kept, it still has a slightly overgrown, wild feel which I find endlessly appealing. Give me an ivy entwined monument over shiny granite and manicured lawns any day! And being so high on the hillside above the bustle of town brings plenty of opportunity for quiet contemplation.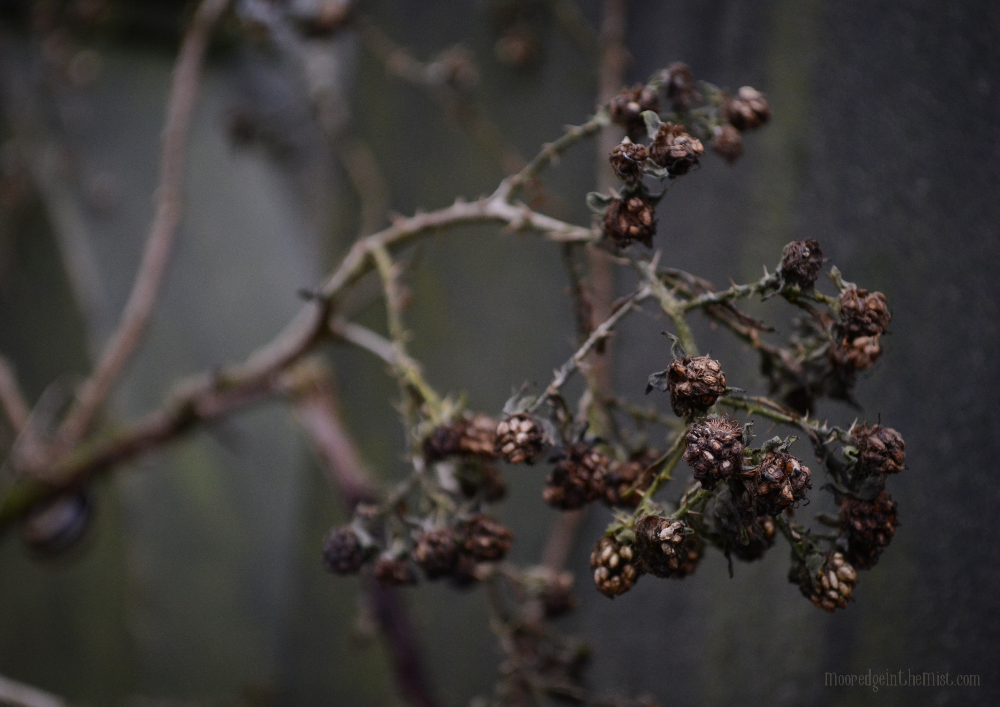 Finally, like every historical site worth its salt around here, the story is not complete until there is a Brontë connection. The Rev. John Fennel served Cross Stone from 1819-41. He is notable for being the uncle of Maria Branwell, wife to Rev Patrick Brontë, and mother of the famous literary sisters. The Brontë children visited Cross Stone in 1829.