There are certain things you encounter in childhood that stay with you. These things open up a door to new worlds and help shape your soul. I don't remember the exact day I found the Misty 1982 annual in a charity shop, or how old I was at the time. I had always been a child inclined to the spooky and mysterious, but this book particularly drew me in. Here was a whole book of comic strips where clever young girls thwart evil, solve mysteries and befriend monsters. All told by the enigmatic and lovely Misty, daughter of the mists, who dwells in the cavern of dreams.
Sometime later I added the 1981 annual to my bookshelf, also found in a charity shop. By this point the 1982 annual was rather falling apart, I had read it so often. Thrilled to dive deeper into the midnight world of Misty, I devoured the tales in its pages, ever eager for more. I was an adult before I finally tracked down the remaining annuals on eBay. A good portion of my weekly rent while at university went to filling the gaps in my collection. It was then I learned about the weekly comic that the annuals were drawn from. This had run for 101 issues but had ceased publication before I was born. Misty had lingered on in part in other comics, but it seemed the veil had long since been drawn over her existence.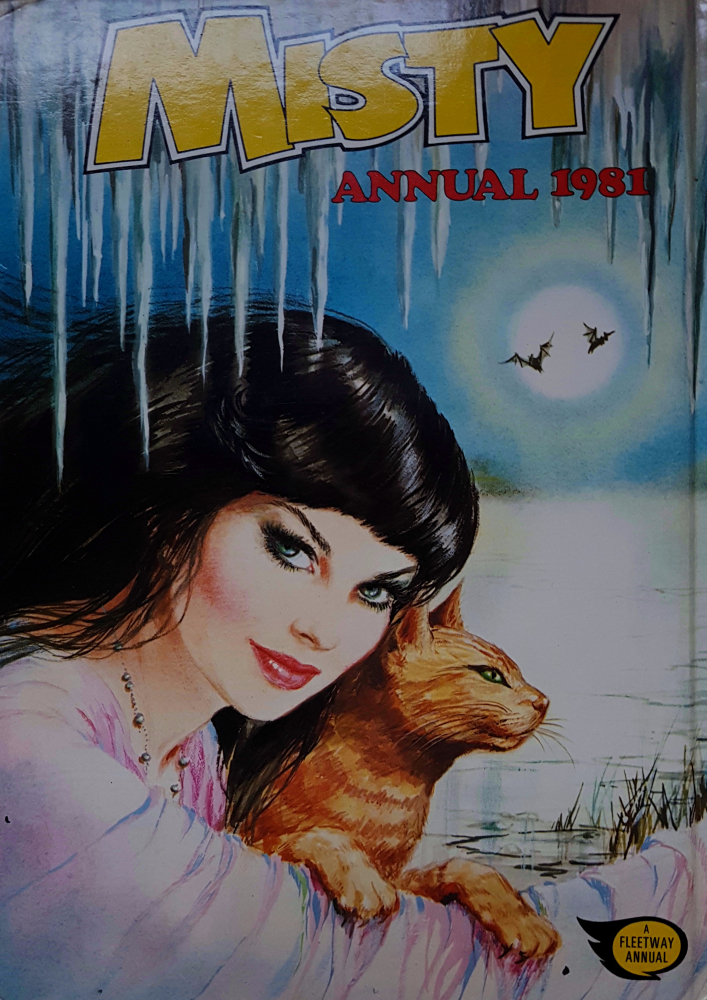 I have read and reread the annuals countless times since. Reading them as an adult hasn't diminished my childhood enthusiasm, the stories remain well written and illustrated (although I'm not sure if I ever found Miss T funny?). Alongside the comic strips are true ghost tales, beauty tips for witches, spooky heartthrobs (oh, Christoper Lee!), and spine-chilling poems. My favourite article as a child was the Ghosthunter's Guide. I fondly remember spending hours recording static from the radio on an old portable cassette player, in the hope of capturing EVP. Looking back on this now it is a wonder I wasn't carted off to a psychologist!
The influences of Misty continue to this day. I love to collect tales of the spooky and mysterious and am always happy to tell them to a willing audience. The name of this website is, in part, owed to Misty. And as my husband pointed out, even my haircut is similar to hers (alas, without the 1970's flippy fringe).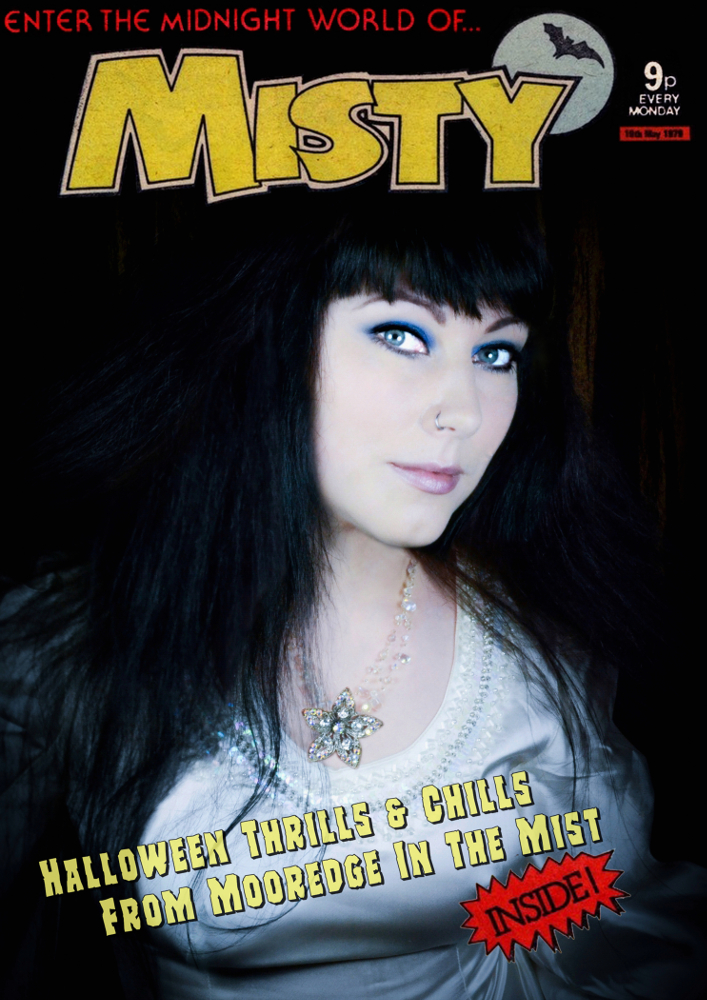 It was a greatly self-indulgent but fun experiment to play the role of Misty for this project. Wearing my mum's late 70s wedding dress, I borrowed some jewels that invoked the spirit of Misty to play dress up for an afternoon. Inspired by Shirley Bellwood's paintings of Misty I tried to recreate my own Misty cover. I hope I have done her justice, but at least my inner child is quite thrilled!
Happily, I am not alone in my love of Misty. The wonderful site MistyComic.co.uk published some fan-made comics a few years back to much excitement. Recently, Rebellion have republished classic stories in two volumes so far. And this Halloween, all new Misty stories are told in a Scream & Misty comic special. It seems the mists are ready to part again…