The summer has passed in the blink of an eye, as summers are wont to do. It was neither a spectacular, hazy hot summer nor completely wet and windy. By some remarkable stroke of luck, it happened to be dry and bright most of the time I ventured out. Such plans were made at the beginning of the summer holidays for weekly adventures further afield, and long walks locally. Alas, life is full of distractions and deadlines and it was late summer before I finally got into the surrounding hills.
My head lately has been full of code and pixels. Long days spent at the computer putting together this website and portfolio. Headachy and hunched after too long sat at my desk. All of this was swept away in the breeze the higher up the hills I climbed. I had the added joy of a visiting friend, Garett, who joined me on my walks. I've come to realise lately how much I adore leading new people along these paths I know, enthusing wildly about the land and recounting tales associated with this place or that. Luckily I manage to find others who share my enthusiasm.
Our walks led us through woodland and fields, past fast flowing streams and tumbledown cottages. A path in any direction from my front door offers a surprising variety of terrain to explore. Yet what my heart longed for most was the moors, the stones and most importantly, the heather in bloom.
The heather was glorious.
An undulating purple haze, fringed with still green bracken. The bilberry bushes were long since stripped bare. Hungry birds or other foragers had been far quicker off the mark than I was. The foxgloves, that until recently looked so lovely, had turned brown and gone to seed. The yarrow and wild carrot too dotted the field margins with their architectural seedheads. Exuberant brambles tumbling over dry stone walls carried dark, glossy berries alongside those still green and unripe. We gathered as we walked, only occasionally exclaiming a little too loudly when one of us ate a too-sour blackberry.
Clouds drifted by overhead, occasionally letting through a shaft of sunlight which turned the fields golden green. The trees were still dark green, nevertheless, if you looked closely the first hints of Autumn were beginning to show. A yellowing of the edges. Beside the path, and in the tangle of roots and fallen branches, tiny mushrooms had emerged. At first, they were hard to see. It seemed as if just one or two had shyly opened their parasols. The pale mauve amethyst deceivers, that show up well against the green moss. And then, the longer spent looking, the more were seen. White, pale orange and gnarly black. Definite signs of Autumn.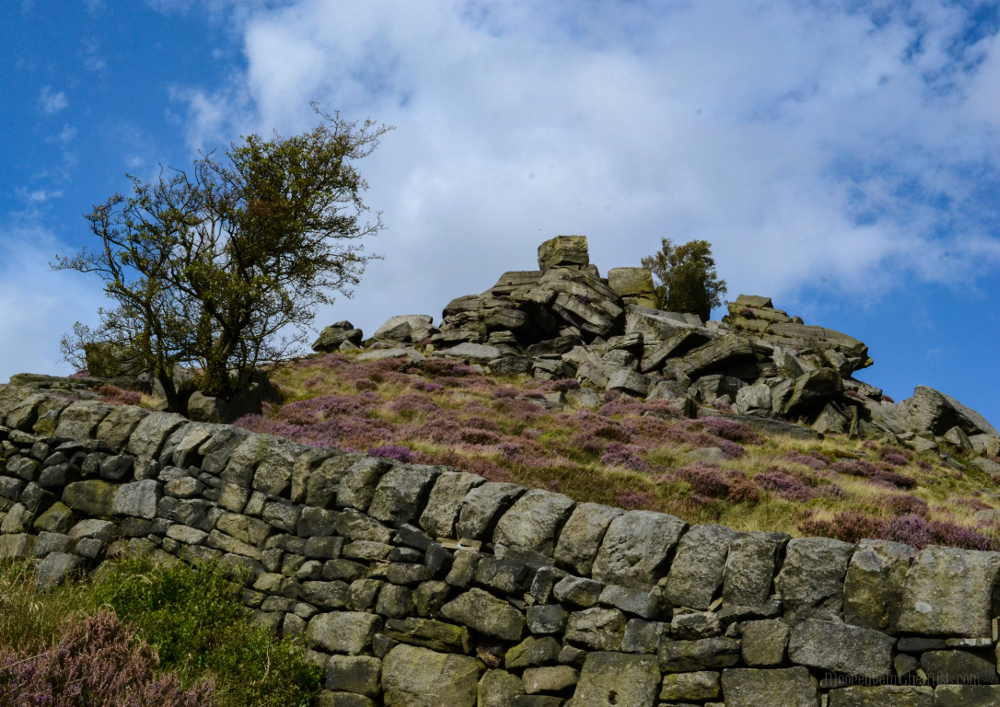 High on the hills, I resolved to not leave it so long before walking up here again. However two weeks since passed and I'm still at the computer, stopping often to stare wistfully out of the window. With the excitement of the Open Studios and the flurry of back-to-school activity, I might be forgiven. However, the leaves are yellowing fast and already we have had our first fire of the season. The constant change outside, beautiful as it is in all its incarnations, is fleeting. The seasons do not care how busy one may be.
Time I think, to switch off, and head into the hills…