My mornings begin early. We have settled back into our familiar school and workday rhythm after a somewhat idle summer. The world is still grey when I draw back the curtains, the sun not yet properly risen. I am keenly aware that still darker mornings lie ahead. The Autumn Equinox has arrived. Today we will experience a brief balance of light and dark. And from now on, the hours of night will outnumber those of daylight.
I have already taken to wearing wool socks and clutching a hot water bottle to my chest, tucking it into bed to warm my feet as the evening draws in. I feel the cold, and want nothing else in life but to be cosy. However, the cold alone cannot dampen my enthusiasm for this time of year. Like so many others, I find Autumn really quite wonderful. Finally, I can wear my favourite jumpers and have afternoon mugs of steaming hot chocolate. Comfort at home, while outside nature blesses us with the most magical delights.
Opening the curtains on Tuesday morning I was thrilled to see a dense mist shrouding the hills opposite. By the time cats and child and husband were fed, dressed and out of the door the sun had risen, casting a splendid golden glow across the valley. Getting dressed quickly I took up my camera, pulled on my wellies and ventured outside. And oh, I was well rewarded.
At the end of the road is a large playing field edged with hedgerows and fruit trees. Brambles scramble down a bank and brown cow parsley seedheads stand tall above the tangles. The spiders had conspired to drape elegant webs over it all, which now sparkled with dew. The sun shone hazily through the mist, perfectly backlighting the scene. By co-incidence, Amelia and her handsome dog were already there when I arrived, so we were able to revel in the beauty together.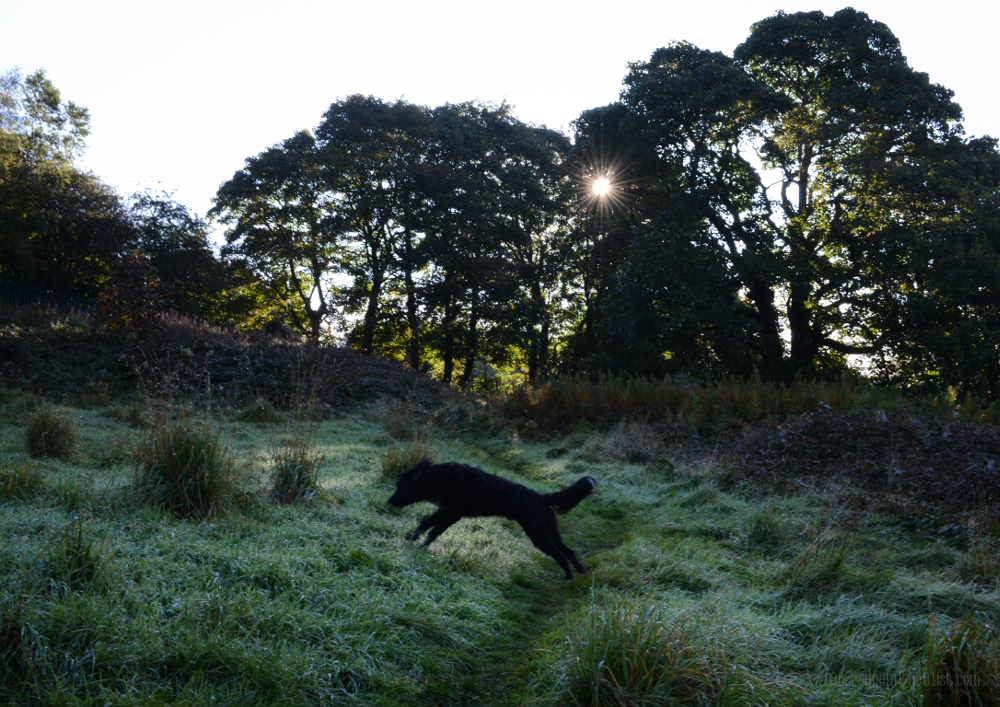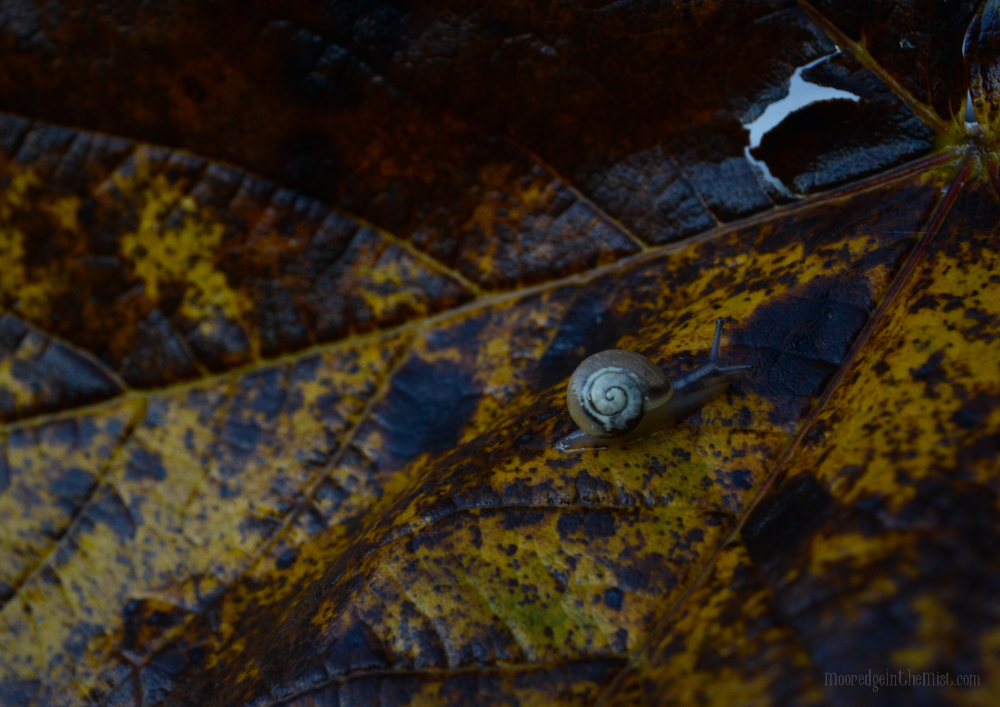 Walking through the field and across the lane into a small meadow brought yet more beauty. The trees are turning quickly now, the patches of yellow spreading and already fallen leaves litter the path. Del the dog happily scampered about getting more and more damp with dew from the long grass. Alas, he was entirely disinterested in posing for any photos, there being far too many interesting things to sniff. Spotting a small sapling whose leaves were already entirely yellow and brown I went to look closer. I was delighted to find the tiniest snail on a leaf that was far more obliging when it came to modelling.
An hour later and the mist had retreated to the higher hills. The sun now shone warm on my face as I turned for home. A quick scout of the hedgerow revealed that someone had taken every single last sloe since I last walked that path. No homemade sloe gin for me this year. Nevertheless, my joy was undented, so filled as I was with the beauty of this perfect morning. Welcome, welcome sweet Autumn!